Post by riv on Apr 24, 2016 22:15:46 GMT 8
HeavenFall, a semi-hardcore crew is now recruiting new and active HIGH LEVEL members! We are a group of friends that came over from 7 knights Global and Soccer Spirits. Currently we are enjoying this game alot. Especially the waifu arts and music. ( ͡° ͜ʖ ͡°)
We also do organise HL raids together and HL baha every week. What we are looking for in new members is your full participation in guild wars as well as players that share the same vision with the crew in moving and progressing towards achieving higher success in the game together. Most importantly, communicate with everyone in the crew so we can help each other as a team and have fun.
Crew link:
game.granbluefantasy.jp/#guild/detail/582522
We have just recently cleared inactives and afkers, and have some space again. We were able to qualify all past few Guild wars and are looking for more members again. Requirements still applies.
**HUGE UPDATE**
Due to the recent new changes to how guild war works in GBF, we have largely changed the format of the way we do GW, as such requirements for new members will be slightly different now.
Below are screenshots of us qualifying
July 2016
August 2016
Dec 2016 GW result: JANUARY 2017 GW RESULT:
MARCH 2017 GW: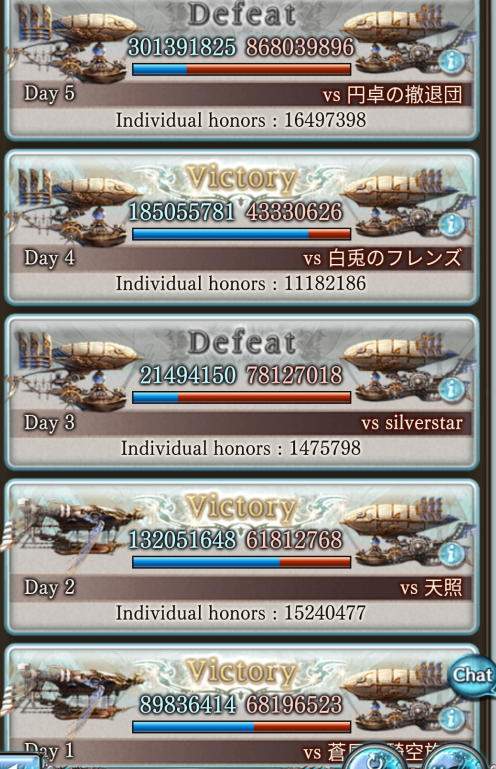 Our current crew goal and plan is at least 3 wins in finals every GW. This will be improved on as we get more capable members. We now usually get average 3 wins per gw.
We will scout you if you meet our requirements:
- Require you to join our Discord server
- Active in Discord chat due to how coordination is required in new GW format now
- Rank 101+
- Must participate in Guild wars and
able to attend our morning GW early rush hour (7AM JST ~ 9AM JST)
- Require at least decent rainbow completed weapon grids, will need you to show us screenshots
- Be active
- Be friendly (no hating, no personal attacks, and you'll be fine)
Thanks!
Crew Skills: drop rate lvl 3, ougi bar lvl 3, Pot lvl 2
Strike Time: 12:00~13:00 JST | 22:00~23:00 JST
Slots: 29/30
you may add me at LINE ID: lolsmyass OR Discord tag: Riv#8192
Do pm me on LINE or Discord if i do not respond here.